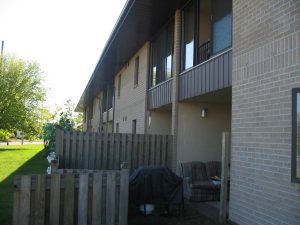 Area:
McKellar South
Address:
210 Ross St.
Owned By:
TBDSSAB
Number of Units:
26 (3 cluster; 20, 1 bedroom; 2, 2 bedroom)
Building Type:
Apartment Walkup
Tenant Type:
Supportive
Market Units:
No
Modified Units:
No
Supportive Units:
Yes
Garbage Facilities:
Yes
Laundry Facilities:
Yes
Fridge & Stove:
Yes
Assistive Devices:
N/A
Utilities:
Not included with rent
Parking (extra cost):
Yes (extra cost)
Shopping:
Victoriaville Mall
Other details:
Hydro extra, water included in rent.

Contact city for transit and local school board for bus stops and schools near to these areas.