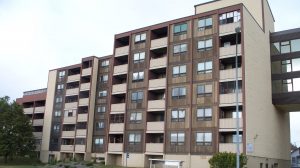 Area:
McKellar North
Address:
120, 122 Cumberland St.
Owned By:
TBDSSAB
Number of Units:
221
Building Type:
Apartment
Tenant Type:
Seniors/Singles/Support
Market Units:
Yes
Modified Units:
No
Supportive Units:
No
Garbage Facilities:
Yes
Laundry Facilities:
Yes
Fridge & Stove:
Yes
Assistive Devices:
Yes
Utilities:
Included with rent
Parking (extra cost):
Yes (extra cost)
Shopping:
Downtown North
Other details:
Hairdresser located in building 122, sunrooms on 4th, 5th, and 6th floors, common area on 5th, balconies.

Contact city for transit and local school board for bus stops and schools near to these areas.