Media Release:
TBDSSAB Announces Funding for Homeless Outreach Programs
Thunder Bay, November 24, 2022 – The District of Thunder Bay Social Services Administration Board (TBDSSAB) and community partner organizations gathered today to announce new funding for homelessness outreach initiatives.
The Homelessness Prevention Program (HPP) is a provincially funded program that aims to prevent, reduce, and address homelessness. Through HPP, TBDSSAB funds multiple homelessness prevention initiatives, including emergency shelters, housing supports, food security initiatives, and homelessness outreach.
Four organizations have received a combined total of $496,135 toward homelessness outreach initiatives through HPP, as well as through the provincially-funded Social Services Relief Fund. Today's announcement includes funding for the following programs.
Elevate NWO, to fund a combination of outreach programs including a warming/cooling centre, operation of an outreach vehicle to transport individuals between shelters and other services, and continuation of current outreach to encampments.

Funding Source: HPP

$325,000
Matawa First Nations Management, to conduct mobile intake to connect individuals experiencing varying levels of homeless to appropriate services by providing assistance to complete intake forms, identify barriers to service and provide immediate needs assistance.

Funding Source: HPP

$100,000
Norwest Community Health Centres, to fund the operation of the Care Bus from December 1, 2022 to March 31, 2023 – 7 days per week, 8 hours per day.

Funding Source: HPP

$50,000
Lutheran Community Care Centre Thunder Bay, to continue work in partnership with Thunder Bay Police Services to conduct intake and support by assisting with referrals to community services and housing and offer resources as needed.

Funding source: SSRF

$21,135
TOTAL
$ 496,135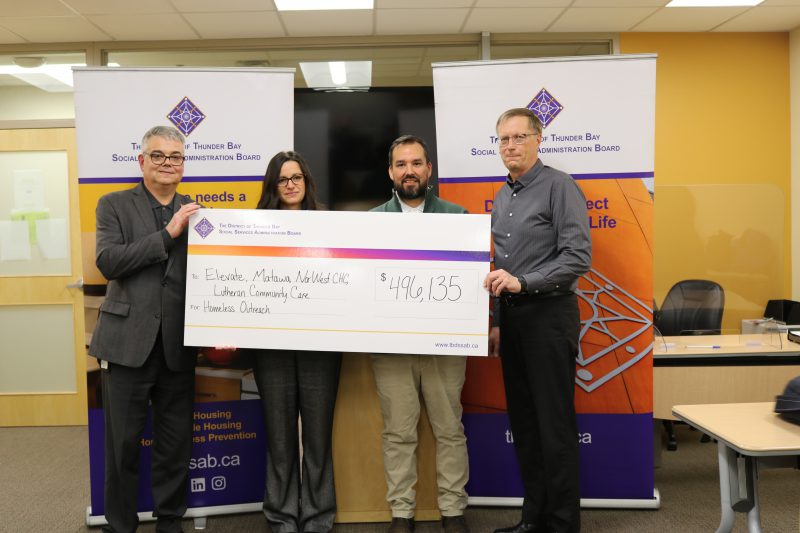 Left to right: Bill Bradica of TBDSSAB, Jennifer Lawrance of NorWest, Paul Magiskan of Matawa, Michael Maunula of Lutheran Community Care.
Quotes:
"Elevate is so excited to be able to partner with DSSAB to create a deeper and more meaningful connection with people who are struggling with homelessness and to reduce the impacts that poverty has on the individual. We will continue to work with the affected community to create meaningful roles and to ensure that they are the drivers of community solutions.  We thank the selection committee for continuing to show faith in our organization."
– Holly Gauvin, Executive Director, Elevate NWO

"This support will continue the Matawa Chiefs and Board of Directors commitment to help address homelessness among our members—this time—using a specific housing navigator approach. While it isn't the multi-year stable funding that we had previously identified, we appreciate that it will fill some of the gaps."
– David Paul Achneepineskum, CEO, Matawa First Nations Management

"Norwest Community Health Centres is pleased to be able to operate the Care Bus again this year. The Care Bus is a crucial service for vulnerable individuals residing in Thunder Bay. As another branch of NorWest Community Health Centres programs and services, the Care Bus fills the gap of assisting individuals to receive needed care and service, while also connecting them with health and social service organizations.

With the increased cost of living, waiting lists for safe affordable housing and the increased number of individuals who are residing in encampments it is apparent that the needs of our vulnerable community members continues to grow. The Care Bus provides a safe warm space for individuals to find refuge during the extremely cold winter months.  The Care Bus provided safe shelter, warm clothing, food, harm reduction supplies, referrals and transport to services, access to vaccinations, and, basic nursing support to more than 8,918 individuals.

We are looking forward to being able to offer this service again this winter and are extremely grateful for the funding received from The District of Thunder Bay Social Services Administration Board."
– Juanita Lawson, CEO, NorWest Community Health Centres

"Our vision of a mobile integrated team really jumped to a higher level with the referrals from Thunder Bay Police in the Quick Connect Project funded by Thunder Bay District Social Services Administration Board. From individuals with no fixed address, lone parents struggling to keep their children safe, to older adults confused and wandering in traffic, the Quick Connect staff helped meet immediate basic needs, provide some stability, and then begin to focus on longer term solutions."
– Michael Maunula, Executive Director, Lutheran Community Care

"We are pleased that our funding model allows us to fund outreach programming as part of our homelessness prevention system. We are grateful to the province for their flexibility, and hope we can keep this momentum going in the 2023 fiscal budget."
– Lucy Kloosterhuis, Chair, TBDSSAB

"With the long, extremely cold winters in our District, outreach services are a critical part of the service system. It's important to be able to offer some stability to these important programs through ongoing funding. We are confident that today's announcement will have a positive impact on our service area, and hope that this leads to more partnerships to help support the hardest to reach in our District."
– Bill Bradica, Chief Administrative Officer, TBDSSAB