Online Child Care Applications
COVID-19 Child Care Changes:
If you are in need of child care and:
Had a space with a licensed child care provider before the COVID-19 Pandemic, please wait for your provider to contact you about your space.
Were on the general waitlist before COVID-19 pandemic, please log in to your account to ensure the information on file is correct thunderbaychildcare.ca
Are in need of child care but not on the general waitlist, please visit thunderbaychildcare.ca to apply.
More information will be provided as it becomes available.
Please note that child care providers will open individually as they can meet the guidelines provided by the Ministry of Education, including inspections.  
Register your child(ren) for licensed child care online at www.thunderbaychildcare.ca
Child Care Centres you selected will contact you directly when a space becomes available.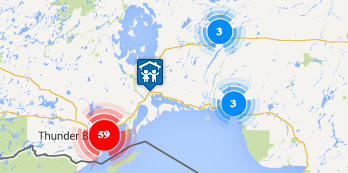 Listing of Licensed Child Care Centres